Kangana likes a post which calls Sonu Sood 'fraud', hits another controversy?
We all know the regular tensions between controversy queen Kangana Ranaut and covid rescue warrior Sonu Sood as it keeps popping in the headlines regularly.
Sonu's reported walking out of her directorial debut explains to some extent why Kangana tries to poke Sonu at every step. Amidst this, Kangana among others has liked a hate comment posted by a Twitter user which criticizes Sonu for endorsing oxygen concentrating machines at this time when we are facing a shortage of oxygen cylinders.
The oxygen concentrator for which the user called Sonu as 'fraud' is the need of the hour today which costs about 2 lakhs. Since the need spurted out, Sonu has been allegedly promoting that brand of oxygen concentrators. Oximeters and infrared are among the other products that he has been seen promoting. The tweet accused him of being making money out of people's state of urgency.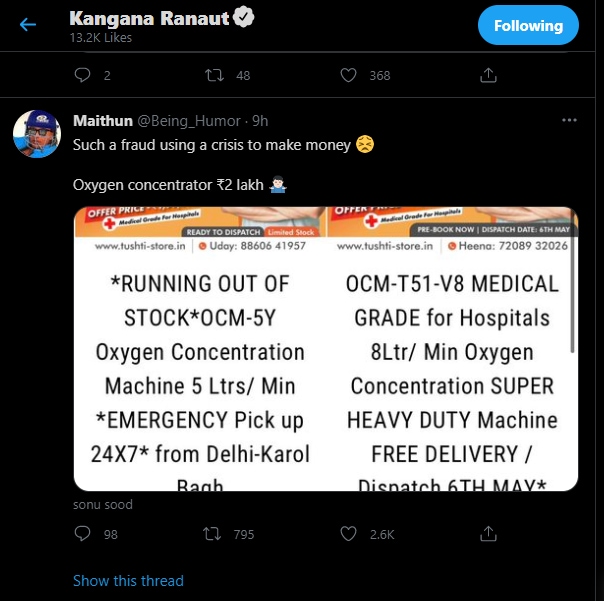 Clashes between the two actors began after Manikarnika where Kangana had taken over the direction and Sonu had expressed his discomfort with working under her. Moreover, Sonu spilled the beans to Barka Dutt by saying that 80% of his scenes were trashed, making him feel bad. A similar situation was with debutant Ankita Lokhande but she neglected the issue and continued with the movie.
Kangana has called for controversy by liking the tweet. Amidst this situation, Sonu has been a help to many who were ailing. We cannot comment if the tweet was a case of defamation or the truth. But the fact that he has even spoken up covering the cremation cost of many makes him worthy to be called noble.